Bosbury Parish Hall is located in the picturesque village of Bosbury, near Ledbury in Herefordshire. It''s a great venue for all kinds of family, business and community group activities and events. We are licensed for music, films and shows and for the sale of alcohol where required at an event.

The Hall is at the west end of the village centre beside the River Leadon and has it's own private car park. In the grounds we have a tennis court and bowling green available for public use. We don't have a mailbox but for sat-nav location purposes the postcode is HR8 1PX.
The village is situated on the B4220 five miles north of the historic market town of Ledbury. If you are inviting visitors to an event, the location is convenient for car travel from anywhere in England and Scotland via the M6, M5 and M50 and from Wales via Hereford or Ross-on-Wye. The Hall is on the 417 bus route and five miles from the mainline railway station at Ledbury.
Bosbury is proud of its historic black-and-white public house, the Bell Inn, formerly a coaching inn, in the centre of the village and the Oak Inn, formerly a cider house, at Staplow, both serving good food and draught beers.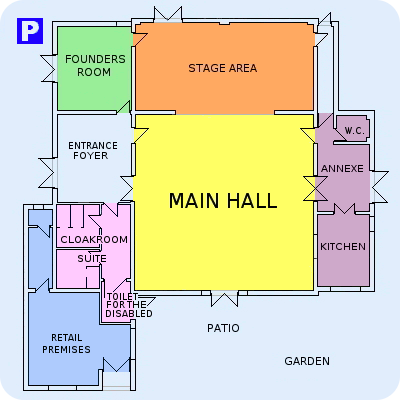 The Main Hall
The main hall is 11 metres by 11 metres with a woodblock floor suitable for dancing and exercising. It is equipped with 106 chairs and 14 rectangular tables that will each seat six people.
This area can be used for conferences, lectures, group meetings, sales, exhibitions, parties, wedding receptions, all types of family celebration as well as small scale indoor sports such as table tennis, short tennis and short mat bowls. There is a permanent cinema screen installed and projection equipment available.
The white wooden ceiling gives and airy feeling and great acoustics and the dimmable wall lighting adds extra atmosphere after dark.
The Stage
The stage area is level with the main hall floor and runs the full width of the hall. It is 5.25m deep and is connected to the Founders Room giving back stage changing facities or a preparation area. There are rear doors at stage right and stage left. There is wooden staging on steel framed supports available. Stage lighting, with gels and dimmers, is available.
The layout is suitable for film shows, discos, drama, presentations and talks.
Meetings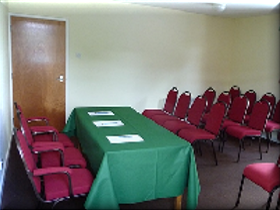 The Founders Room is a smaller room beside the entrance foyer which will seat up to 30 in a meeting layout but is also useful for discussion groups or as a changing room for fashion shows and theatre productions.
Catering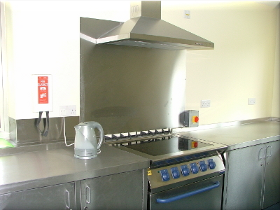 For smaller events the hall has a modern well-equipped kitchen fitted out with commercial catering equipment including an oven which can hold four catering trays, a four-ring hob, dishwasher, hot cupboard stainless steel working surfaces and a shuttered serving hatch opening through to the Main Hall.
For larger events there are caterers in Ledbury who are familiar with our facilities or users may bring in their own caterers.
Cloakroom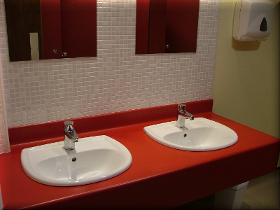 There are modern toilet facilities with coat-hooks in the lobby and a separate toilet equipped for the disabled and accessed from inside and also from outside by a RADAR key. It also includes a nappy changing unit.
Booking the Hall
There is a lot of useful information on our Booking the Hall page. If you know all about us, then simply call our Booking Secretary, Angela Clarke, on 01531 640828 or email her at
She will need to know the type of event, the date and time you need to book the Hall for your event as well as exactly which rooms you require.
Accounts
The Bosbury Parish Hall annual accounts are produced every year at the AGM and the figures submitted to the Charity Commission. If you are interested, you can click to download the latest accounts (1Mb).
Status
Bosbury Parish Hall, despite the name, is not run by the Church but is an independant concern run by a Committee of voluntary Trustees. It has charitable status and any donations or bequests would be very welcome to help us to maintain and improve the facility.