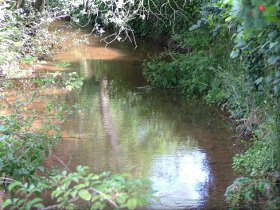 The river Leadon
Hire Charges
The Main Hall and Founders' Room (our smaller meetings room), may be hired together or separately together with the kitchen and garden. The rates are given below but note that there are further discounts for block bookings for regular sessions and for local hirers. Clubs and societies who haven't used the Hall before are encouraged to contact the Booking Secretary and arrange to be shown the facilities.
per Hour
per Day
Main Hall
£12.50
£160
Meeting Room
£8.00
£95
Both rooms
£17.00
£215
Use of Garden
included in main hall hire
Use of Kitchen -
for light refreshments
included free in room hire charge
for use of electrical equipment, cooker dishwasher etc.
£5.50
£65
Daily hire is from 9am to midnight. Reduced charges apply for pre-booked hirings of six or more individual sessions within a six-month period. Exclusive use of the entire hall for a full-day event, including time on the day before to set up for the event and time on the day after to clear up, is charged at £375. This provides use of all the facilities. And a Hirer living in the parish of Bosbury is eligible for a 15% discount on all hire charges.
Booking the Hall
To enquire about making a Hall booking, please call the Booking Secretary, Mrs Angela Clarke, on 01531 640828.
Tennis Court and Bowling Green
We have a tarmac tennis court and well-maintained lawn bowling green on land behind the Hall. To find out more about booking the tennis court, text 07803 427860. To enquire about the bowling green call Jeremy on 07763332352 or Chris on 07918188419. There is a Bowls Club which holds regular matches.
General Data Protection Regulations (GDPR)
Any contact details and other information supplied by you will only be used for contacting you with regard to bookings and will be held securely and will not be passed on to anyone without your permission. Details are available on the entrance notice board and available to download here.
You can see PDF documents of our Hiring Agreement, Standard Conditions of Hire, Information Sheet, Fire Procedure, Authority for Sale of Alcohol, Child Protection Policy and Data Protection Policy.